HIGHCLERE RACING'S WEEKLY NEWS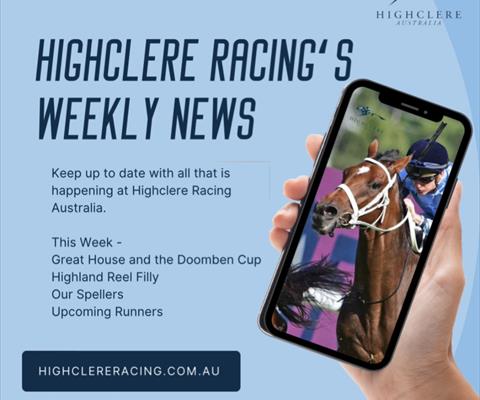 31/5/2022
This week Great House finally got to run on a dry track, unfortunately, he did have a wide barrier which meant he did have to go back to last but he stormed home and was only beaten a length and a half and in a photo for third with Zaaki, an effort to be admired at weight for age level. We now look forward to the Q22 in 2 weeks' time when he drops back to Group 2 level. 
Durston who is on the comeback trail after injury is also shaping up nicely in the Chris Waller stable, his work is slowly being increased and all going well we look to see him back at the track in July. 
Our Highland Reel filly is continuing to please the Bjorn Baker stable and will trial on Friday before heading to the racetrack. If you want a runner in the next month email info@highclereracing.com.au to secure a share in this nice filly. Not only does she look like she will be a success on the racetrack but being by Highland Reel she will also have great residual value. 
Our spellers are enjoying their time of rest and it won't be long before we see a few of them return to pre-training, a couple we are certainly looking forward to is two of our youngsters in Armageddon and Korolev. Both horses have grown and developed and we look forward to seeing where they can go as geldings this preparation. Olympic Theatre also showed great ability in his first Australian racing preparation so we can't wait to see him back in action later this year. 
This week we are excited about Bartholomeu Dias running again for the Annabel Neasham stable, he currently holds a nomination for Queensland and Sydney and the weather could be a bit player on which way we head so make sure you stay up to date with our socials to see where he is running and come back next week to see how he went and get all the other news from Highclere Australia.
[31/05/2022]
Previous